August 11-15, 2015 in Providence, RI
Conference Location.
The conference will be held in MacMillan Hall, at Brown University, in Providence, RI. The google map below shows MacMillan Hall, at the corner of George and Thayer Streets, across from the Mathematics Department.
The conference talks will be in MacMillan 117, shown below. The room has blackboards and screen projector. Speakers with computer slides should bring a laptop or USB key. The poster session will be held in the hallway and nearby room MacMillan 115.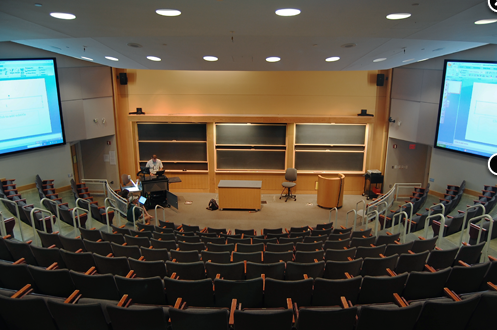 Between Hotels and Conference.
The conference will be arranging shuttles between the conference hotels and the conference location (MacMillan Hall). In particular:
Wyndham Gardens offers shuttle service for $5.00 per person. Please notify them at the front desk if you will be using this service.
Hampton Inn offers shuttle service for free. The shuttle is scheduled to leave the Hotel at 8am and pick up at MacMillan Hall 30 minutes after the conference ends each day.
Courtyard does not offer shuttle services. However, instructions are follow for using RIPTA bus.
Participants can also walk from their downtown hotels to the bus tunnel at the intersection of South Main Street and Washington Street (across from RISD Museum) and take the RIPTA bus up the tunnel to campus ($2 cash fare exact change). MacMillian Hall is just 2 blocks away from the top of the tunnel. Some busses leave from other points downtown (the main station is at Burnside Park) to head up this tunnel (contact your hotel for the best directions).
Walking from downtown to MacMillan Hall takes around 20 minutes (but please budget a little extra time the first time).
Directions to Campus by Car.
Please see Getting to Brown or use the Google Map at the top of this page.
Parking at the Conference.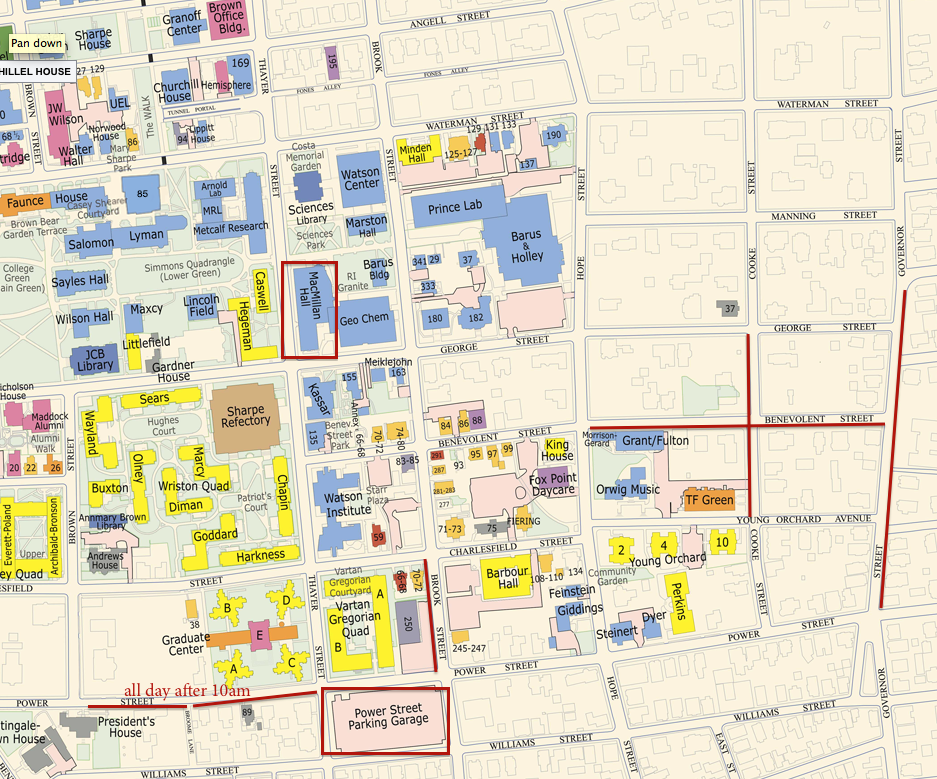 Campus parking lot "68 Upper" (Power Street Parking Garage) is most convenient to the conference. The entrance is at the intersection of Power and Thayer Streets, three blocks south of MacMillan Hall. It is "Pay and Display", and the machines accept bills and credit cards (but don't give change). Rates are $2-3/hr or $15/day. More information on this lot is here.
There are also a few on-street parking areas available, all within walking distance of MacMillan. Click here for a larger version of the map above, marking these all day parking areas and the parking garage mentioned above. All of the other street parking is 2 or 3 hour parking. Some streets are permit parking only until 12pm and then 2-3 hour parking after 12pm.
Contact your hotel or see Accommodation for information on parking near your hotel.
Banquet Location
The banquet will be held at the Providence Marriott, downtown at 1 Orms Street.
The airport is about 10 miles from campus. To get to campus:
Directions to Providence by Transit from Boston Logan Airport.
Boston Logan Airport is farther away but cheaper to fly into. It is about an hour's drive from Providence. To get to Brown campus:
Peter Pan Bus runs regular service directly from Logan to Providence downtown (campus is 20 minutes walk from downtown). It costs approximately $20 and runs about every 1.5 hours, taking about an hour. See Peter Pan Bus.
By public transit, it is possible to take a Silver Line bus to South Station in Boston (running every 8 minutes, $2.65, takes 20 minutes), then an MBTA Train (running every few hours, $10.50, takes an hour) from South Station to Providence. See schedule (South Station to Providence, lines 1 and -3 (third from bottom), note that not all trains on line 1 go as far as Providence). The Providence station is near hotels and campus (20 minutes walk to conference venue).
There are also shuttle services, taxis and rental cars. See Airport Ground Transportation.