Jeanne N. Clelland
Professor of Mathematics

Department of Mathematics
395 UCB
University of Colorado
Boulder, CO 80309-0395
(303) 492-7083
e-mail me
---
Teaching Fall 2019

MATH 2001: Intro to Discrete Mathematics
MATH 3430: Ordinary Differential Equations

Office hours: Thursdays, 1:00 - 3:00 P.M.

---
---
Maple packages for differential forms and Cartan-Kahler analysis

---
Other cool stuff...

July 2019: Read my blog post "The Mathematics of Gerrymandering and the Supreme Court," on MAA mathvalues.org here, and my opinion piece "The court seeks a standard to measure partisan gerrymandering. Mathematicians came up with one" from the Daily Camera here.

January 2018: Hear my interview (and lots of other people's, too!) for the My Favorite Theorem podcast here and read the accompanying blog post here.

April 2017: My book is now available from the American Mathematical Society here.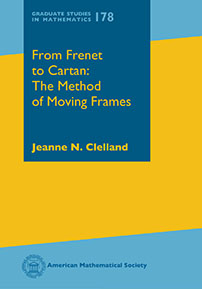 ---
Math department home page
Last update 9/1/19