My research falls largely into three main categories. Jump to publications.
The Arithmetic of Kleinian groups
My most recent work was originally motivated by a connection between Apollonian circle packings and the structure of imaginary quadratic fields (in turn coming out of a connection to abelian sandpiles!). A Schmidt arrangement (named for Asmus Schmidt) is the orbit of the extended real line in the extended complex plane under the Mobius action of the Bianchi group PSL2(OK) (here, OK is the ring of integers of the imaginary quadratic field). The resulting fractal of nested circles is an analogue to the Farey subdivision of the real line into nested intervals. It has interesting connections to the arithmetic of the field: for example, it is connected if and only if OK is Euclidean. It turns out the Schmidt arrangement of the Gaussian integers is a union of all primitive integral Apollonian circle packings. In other fields, there are other new packings -- and associated thin groups -- that govern the picture. In this age of computer visualization, there are still new things to discover about topics as classical as imaginary quadratic fields, quadratic forms, hermitian forms, etc.
Arithmetic Geometry
The Fibonacci numbers are governed by a twisted multiplicative group -- for example, primes p appear in the (p2-1)-th term because this is the cardinality of the multiplicative group of Fp2. If you replace the multiplicative group with an elliptic curve, you obtain a recurrence sequence called an elliptic divisibility sequence (this is because the division polynomials satisfy a recurrence coming from the group law). Much of my interest in arithmetic geometry is connected to algebraic divisibility sequences such as these. The sequences carry all sorts of arithmetic information: for example, using a multi-dimensional generalization of elliptic divisibility sequences called elliptic nets, you can compute the Tate-Lichtenbaum pairing as a quotient of certain terms.
Cryptography
I learned from Kristin Lauter that cryptographic applications can give rise to interesting and totally new number theory problems. I've worked on elliptic curve cryptography, and more recently, lattice-based cryptography, which provides the promise of secure post-quantum crypto (quantum computers will be able to solve the elliptic curve discrete logarithm problem). My interest has often been in the security of hard problems. For example, lattice-based cryptography benefits from the extra structure of the ring of integers of a number field, but I'm interested in how that extra structure may provide needed tools to attack problems such as Ring Learning with Errors. I find it fascinating to see the interplay between theory and practice, and to work across disciplines.
Algebraic Number Theory and Arithmetic Dynamics
The core of all three topics above is, of course, algebraic number theory. I'm interested in quadratic forms, Hermitian forms, class field theory, Euclideanity, continued fractions and elementary number theory. I'm also interested in arithmetic dynamics, particularly in taking a dynamical viewpoint on the structure of number fields.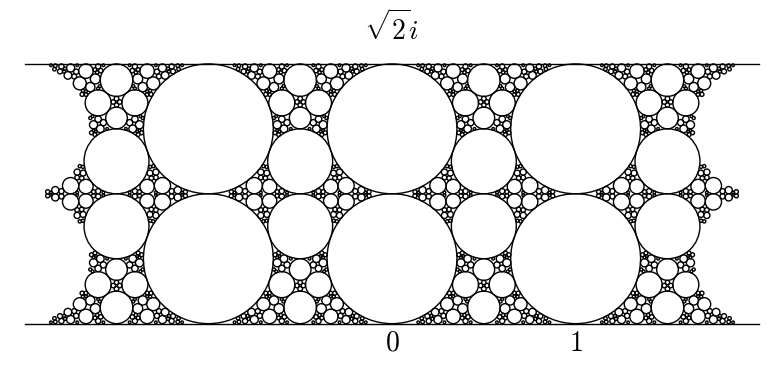 Find me at: arXiv MathSciNet CV (PDF)
The following articles are colour-coded to help you find certain topics:
Arithmetic of Kleinian groups Arithmetic geometry Cryptography
New Preprints
A family of monogenic S4 quartic fields arising from elliptic curves with T. Alden Gassert and Hanson Smith
Submitted, 19 pages. [

show abstract

| arXiv:1708.03953 ] We consider partial torsion fields (fields generated by a root of a division polynomial) for elliptic curves. By analysing the reduction properties of elliptic curves, and applying the Montes Algorithm, we obtain information about the ring of integers. In particular, for the partial 3-torsion fields for a certain one-parameter family of non-CM elliptic curves, we describe a power basis. As a result, we show that the one-parameter family of quartic S4 fields given by T4 − 6T2 − αT − 3 for α ϵ Z such that α ± 8 are squarefree, are monogenic.



Local-global principles in circle packings

with Elena Fuchs and Xin Zhang
Submitted, 54 pages. [

show abstract

| arXiv:1707.06708 ] We generalize work of Bourgain-Kontorovich and Zhang, proving an almost local-to-global property for the curvatures of certain circle packings, to a large class of Kleinian groups. Specifically, we associate in a natural way an infinite family of integral packings of circles to any Kleinian group A < PSL2(K) satisfying certain conditions, where K is an imaginary quadratic field, and show that the curvatures of the circles in any such packing satisfy an almost local-to-global principle. A key ingredient in the proof of this is that A possesses a spectral gap property, which we prove for any infinite-covolume, geometrically finite, Zariski dense Kleinian group in PSL2(OK) containing a Zariski dense subgroup of PSL2(Z).


To appear
Published
Older Preprints
An arborist's guide to the rationals
Under revision, 7 pages. [

show abstract

| arXiv:1403.2928 ]

There are two well-known ways to enumerate the positive rational numbers in an infinite binary tree: the Farey/Stern-Brocot tree and the Calkin-Wilf tree. In this brief note, we describe these two trees as `transpose shadows' of a tree of matrices (a result due to Backhouse and Ferreira) via a new proof using yet another famous tree of rationals: the topograph of Conway and Fung.




General Zelevinsky Algebras with Peter Hoffman and Chris Wooff
Under revision, 23 pages. [

show abstract

| pdf ]

Here we show that a fairly general notion of `Hopf algebra with positivity and self-adjointness' admits a decomposition into a tensor product of `atomic' such objects. Then, for an infinite family of base rings, we classify the atomic objects. This generalizes both a theorem of Zelevinsky, which he applied to linear representations of various families of groups, and an analogous theorem of Bean and Hoffman, which had applications to projective representations of symmetric and alternating groups (and more generally to some covering groups of monomial groups). The sequence of examples for which the classification is complete starts with these two earlier results. The remaining terms of the sequence will apply to representations of covers of certain wreath product groups.




Pedagogical Articles
Standards Based Grading in a First Proofs Course
Preprint, 12 pages plus appendices.
[

show abstract

| pdf ]

Standards-based grading, in which grading should be designed to communicate to students their current level of mastery with regards to well-articulated standards, is becoming popular at the K-12 level. As yet, the literature addressing standards-based grading at the university level is scarce. In this paper, I document my attempts to put into practice the principles of standards based grading in a lower-level undergraduate mathematics course which aims to introduce mathematical proof.




Expositional Publications
The Farey structure of the Gaussian integers


Asia Pacific Math Newsletter, (6)2, 2016, pp. 10-14.
[

show abstract

| published ]

This is a short four-page general exposition of the analogy between the Gaussian Schmidt arrangement and the Farey fractions, and their connections to hyperbolic geometry.





Visualizing imaginary quadratic fields


Canadian Mathematical Society Notes September 2016, 2 pages.
[

show abstract

| published ]

This is a short two-page general exposition of Schmidt arrangements.




Ph.D. Thesis
Elliptic nets and elliptic curves


Ph.D. Thesis, Brown University, 2008, 297 pages including computer code and errors.
[

show abstract

| pdf ] The sequence of division polynomials for an elliptic curve satisfies a non-linear recurrence relation. Specialising to a chosen elliptic curve and evaluating at a chosen point gives a recurrence sequence in the field over which curve and point are defined. In the field of rational numbers, Morgan Ward showed in 1948 that all sequences satisfying this particular recurrence relation arise from division polynomials. These are called elliptic divisibility sequences. In this thesis, we define a higher rank generalisation of elliptic divisibility sequences called elliptic nets. To do so, we define rational functions called net polynomials in analogy to division polynomials. For any integer n, we define a collection of such net polynomials in n variables indexed by n-tuples of integers; for n=1, one obtains the division polynomials. This collection satisfies a certain non-linear recurrence relation. Any array satisfying this relation is called an elliptic net. The evaluation of the array of functions at a curve and n-tuple of points gives an elliptic net with values in K. Conversely, any elliptic net over K arises from the net polynomials evaluated at some elliptic curve and tuple of points. In this thesis, we make precise the correspondence between elliptic curves and elliptic nets, over arbitrary fields. We describe the Laurentness properties of elliptic nets, and generalise the `symmetry properties' observed by Morgan Ward and others. It is shown that the Poincaré biextension of an elliptic curve crossed with itself has a factor system given by the net polynomials. As a consequence, the Tate-Lichtenbaum and Weil pairings for an elliptic curve have a description in terms of elliptic nets. This leads to a new algorithm for computing these pairings by computing terms of elliptic nets. The complexity of this algorithm is examined. Finally, some hard computational problems for elliptic nets are related to the elliptic curve discrete logarithm problem over finite fields, with a view toward cryptographic security.


Unpublish(ed/able) Notes
Formulary for elliptic divisibility sequences and elliptic nets
[

show abstract

| pdf ]

Just the formulas. No warranty is expressed or implied. May cause side effects. Not to be taken internally. Remove label before using. Not to be used as a flotation device. May contain nuts. Please report any errors you may find.




Notes on the spin homomorphism with Yongqi Feng
[

show abstract

| pdf ]

Expositional notes for Apollonian Circle Packings, 23--27 June, 2014, Mittag-Leffler.




Notes on Bhargava's composition laws
[

show abstract

| pdf ]

Expositional notes for a seminar.




Support
I am grateful to be currently supported in my research by the National Science Foundation of the United States, and to have been supported in past by the National Security Agency and National Science Foundation of the Unites States and the Natural Sciences and Engineering Research Council of Canada.
Collaborators