I'm a number theorist, and, in Dyson's classification, a frog. I enjoy simple-seeming questions that lead to a richness of structure. Areas of interest include elliptic curves, algebraic divisibility sequences, Diophantine geometry, arithmetic dynamics, quadratic and hermitian forms, Bianchi groups, thin groups, hyperbolic geometry, cryptography and game theory. I enjoy problems that involve experimental mathematics, using a computer.
You can find my CV here.
Recent News
I've just switched the template on my website and things may be a little broken as a result. Let me know.
I hope I'll see you at the Seattle JMM!
I'm currently teaching Combinatorics
and Discrete Math (Fall 2015).
A Brief History
Birth of our son, Yitzhak Wise, January 2013.
NSF Postdoc at Stanford University, 2011-12
Married to Jonathan Wise, 2010.
NSERC/PIMS/NSF Postdoc at Simon Fraser University and
the Pacific Institute for the Mathematical Sciences at
the University of British Columbia, 2009-11
NSF Postdoc at Harvard University, 2008-09
Ph.D. under Joseph H. Silverman at Brown University, 2008
Intern, Microsoft Research, under Kristin Lauter, 2007
M.Sc. Mathematics, Brown University, 2003
B.Math. Pure Mathematics, University of Waterloo, 2001
Camper, PROMYS, 1996 & 1997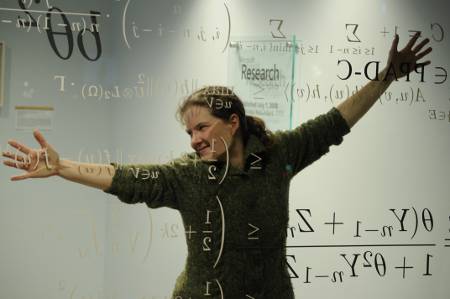 Photo by Lionel Levine
Quick Links
Contact