There will be an opening reception on Monday evening, July 29, 2013, at the Koenig Memorial Center (map) on campus. This reception is open to all registered participants.
The program will be open on the Wednesday afternoon allowing participants to explore Boulder and its surroundings. The local organizers will lead a variety of short hikes near Boulder. In addition, there will be the opportunity to visit Rocky Mountain National Park, 40 miles to the northwest. Interested participants can register directly with the tour company through this link.
Rocky Mountain National Park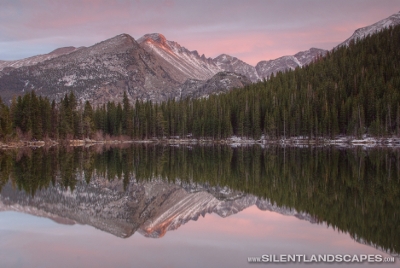 On Thursday August 1, 2013 there will be a dinner at the Hotel Boulderado (map) in downtown Boulder. Participation at the conference dinner is of course optional; those interested in attending can pay for the dinner along with registering online.
Avoiding Altitude Sickness
Boulder is located at 5,430ft (1,655m) above sea level, where the air pressure is roughly 83% of that at sea level. The mountains (which can be hiked from the university campus for those that are adventurous) near town top out at 8,461ft (2,579m) above sea level. The tour in Rocky Mountain National Park will reach an elevation of 10,829ft (3,301m). Colorado has 54 mountain summits over 14,000ft (4,267m).
For those living near sea level, altitude sickness may be an issue. Even for those acclimated to Boulder, travelling to the high country may cause altitude sickness. The primary manifestations of altitude sickness are headaches and a feeling of motion sickness. These effects can in many cases be avoided by several over-the-counter remedies.
Ibuprofen: If you plan to travel to the high country, you should consider (for adults) a dose up to 800mg of Ibuprofen. This is a common method of avoiding an altitude headache. This is available in any pharmacy, over-the-counter (without prescription) in Colorado.
Antacids: A severe feeling of motion sickness or blurred vision is the second sign of altitude sickness. This can often be relieved by consuming antacid tablets.
Conference attendees are also cautioned that consuming alcohol at elevation can exaggerate effects. With that said, Boulder is known as a craft beer mecca.