Welcome to the Mathematics Academic Resource Center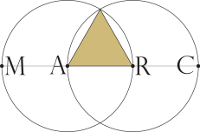 The Mathematics Academic Resource Center (MARC) is a free service provided by the Department of Mathematics that offers students additional support for their CU Mathematics courses. The MARC employs undergraduate students that have a strong background in mathematics and care about helping others learn. We also have a strong contingent of graduate students and Learning Assistants to assist problem solving in the Fall and Spring Semesters. MARC tutors are able to assist in all lower division Mathematics courses as well as many upper division courses. LaTex assistance is also available.
In the MARC, you can find tutors sitting around the perimeter of the room, in front of blackboards. Don't be shy! Approach them with whatever math questions you may have.
If you are interested in working for the MARC as a tutor, please contact Daniel Moritz at daniel.moritz@colorado.edu.
For comments and suggestions, please visit the Mathematics comment page
Location: Math 175
Spring Hours: Monday-Thursday: 9am-9pm
Friday: 9am-4pm
Ping Pong: Friday: 4-5pm

Spring 2019 Schedule
TIME

DAY

MONDAY
TUESDAY
WEDNESDAY
THURSDAY
FRIDAY
9am
Ian Miller (G)
Noah Williams (G)
Kevin Berg (G)
Lucas Gagnon (G)
Noah Williams (G)
Marie Jeffries (2300)
Robert Hines (G)
Steven Weinell (G)
Marie Jeffries (2300)
Jonathan Vargas (2300)
10am
Naiche(U)
Levi S (U)
Brian Park (U)
Megan Byres (2400)
Marie Jeffries (2300)
Daniel Martin (G)
Sabrina Kurevija (1300)
Annamarie Guth (1300)
Naiche(U)
Jerett C (U)
Ellie B (2300)
Richard Dyer (G)
Jonathan Quartin (G)
Tyler Schrock (G)
Derek Logan (2400)
Sarah S (1300)
Levi S (U)
Steven Weinell (G)
Shen Lu (G))
Izzy Greenhut (2300)
Dria F (U)
Alexis Sotomayor (U)
Nayan Dong (1150)
Sarah Hamilton (1212)
Levi S (U)
Arpi Grigorian (U)
Marie Jeffries (2300)
Mat Foucher (U)
Nayan Dong (1150)
11am
Hunter Davenport (G)
Richard Dyer (G)
Taylor (TK) Klotz (G)
Ian Miller (G)
Naiche(U)
Bradley Sain (U)
Sabrina Kurevija (1300)
Aazer Rae (U)
Bruce Seymour (U)
Jerett C (U)
Pavle Popovic (2300)
Yu Wang (G)
Richard Dyer (G)
Derek Logan (2400)
Rachel Sheraden (2300)
Hannah Rieder (1300)
Sabrina Kurevija (1300)
Carlos Pinilla(G)
Erik Knutsen(G)
Natalie Duncan (2510)
Izzy Greenhut (2300)
Cynthia Liu(2300)
Poramate Nakkirt (1150)
Aazer Rae (U)
Hunter Davenport (G)
Erik Knutsen(G)
Chris Corlett (1212)
Medha Patel (U)
Aidan Bohenick (U)
Arpi Grigorian (U)
12pm
Mark Pullins (G)
Ian Miller (G)
Annamarie Guth (1300)
Mohammad Ozaslan (U)
Arpi Grigorian (U)
Alexis Sotomayor (U)
Braden Balentine (G)
Matthew Pierson (G)
Jerett C (U)
Megan Byres (2400)
Aazer Rae (U)
Bruce Seymour(U)
Annamarie Guth (1300)
Mohammad Ozaslan (U)
Arpi Grigorian (U)
England McDaniels (1300)
Alexis Sotomayor (U)
Nayan Dong (1150)
Andrew Healy (G)
Erik Knutsen(G)
Bruce Seymour(u)
Annamarie Guth (1300)
Arpi Grigorian (U)
Sam Serra (U)
Saeed Khalili(G)
Rachel Sheraden (2300)
Medha Patel (U)
Chris Corlett (1212)
Connor Meredith (G)
Ali Lotfi(G)
1pm
Chris Eblen (G)
Athena Sparks (G)
Andrew Stocker (G)
Andrew Healy (G)
Pavle Popovic (2300)
Bruce Seymour(u)
Colin Tweedy (LA 2400)
Hannah Rieder (1300)
Naiche(U)
Bruce Seymour(U)
Max Howard (U)
Ali Lotfi (G)
Hunter Davenport (G)
Chris Eblen (G)
Andrew Campbell(G)
Dante Salas (U)
Pavle Popovic (2300)
Arpi Grigorian (U)
Andrew Stocker(G)
Poramate Nakkirt (1150)
Naiche(U)
Bruce Seymour(u)
Emma Robertson (U)
England M (1300)
Chris Eblen (G)
Sam S (2510)
Pavle Popovic (2300)
Bruce Seymour(u)
Dria F (U)
Alexis Sotomayor (U)
2pm
Athena Sparks (G)
Andrew Stocker (G)
Andrew Healy (G)
Korye Lockett (1150)
Bruce Seymour(u)
Ali Lotfi (G)
Peter Rock (G)
Mateo Muro (G)
Connor McCranie (G)
Colin Tweedy (2400)
Rachel Sheraden (2300)
Korye Lockett (1150)
Jordan DuBeau (G)
Ruofan Li (G)
Tyler Schrock (G)
Sebastian Bozlee (G)
Korye Lockett (1150)
England McDaniels (1300)
Peter Rock (G)
Krisztina Dearborn (G)
Sam S (2510)
Colin Tweedy (2400)
Manru Wei (2510)
Hannah R (1300)
Sebastian Bozlee (G)
Ziwei Cheng (1212)
Cynthia Liu(2300)
Jonathan Vargas (2300)
Dria F (U)
Jie Wang(U)
3pm
Joel Ornstein (G)
Andrew Healy (G)
Erik Knutsen(G)
Erica Lee (1212)
Bruce Seymour(U)
Bradley Sain (U)
Peter Rock (G)
Mateo Muro (G)
Connor McCranie (G)
Aazer Rae(U)
Naiche(U)
Max Howard (U)
Cherry Ng (G)
Krisztina Dearborn (G)
Sebastian Bozlee (G)
Hannah Rieder(1300)
Dante Salas (U)
Emma Robertson (U)
Peter Rock (G)
Emily Naismith (2510)
Naiche(U)
Aazer Rae (U)
Jie Wang(U)
Michael Hasenkamp(U)
Leo Herr (G)
Sebastian Bozlee (G)
Levi S (2400)
Dria F (U)
Simone Cade (2510)
Mat Foucher(U)
4pm
Naiche(U)
Bradley Sain (U)
Sam S (U)
Connor Meredith (G)
Toby A (U)
Peter Rock (G)
Mateo Muro (G)
Connor McCranie (G)
Medha Patel (U)
Aazer Rae (U)
Quentin S (U)
Cherry Ng (G)
Chris Eblen (G)
Krisztina Dearborn (G)
Megan Byres (2400)
Dante Salas (U)
Ali Lotfi(G)
Peter Rock (G)
Maya Short (2510)
Jonathan Vargas (2300)
Aazer Rae (U)
Jie Wang(U)
Arpi Grigorian (U)
PING PONG
HAVE
A
NICE
WEEKEND
5pm
Colton Grainger (G)
Sarah S (1300)
Ellie B (2300)
Levi S (2400)
Naiche(U)
Bradley Sain (U)
Dante Salas (U)
Medha Patel(U)
Emma Robertson (U)
Aidan Bohenick (U)
Cedric Kram(U)
Jerett C (U)
Cynthia Liu (2300)
Dante Salas (U)
Bradley Sain (U)
Bruce Seymour (U)
Connor Meredith (G)
Jun Hong (G)
Steven Weinell (G)
Dante Salas (U)
Levi S (U)
Connor Meredith (G)
Aidan Bohenick (U)
Arpi Grigorian (U)
PING PONG
HAVE
A
NICE
WEEKEND
6pm
Ellie B (2300)
Cedric Kram(U)
Bradley Sain (U)
Medha Patel (U)
Aidan Bohenick (U)
Connor Meredith (G)
Emma Robertson (U)
Medha Patel (U)
Aidan Bohenick (U)
Cedric Kram (U)
Alexis Sotomayor (U)
Yu Wang (G)
Shen Lu (G)
Colton Grainger (G)
Izzy Greenhut (2300)
Cedric kram(U)
Bradley Sain (U)
Connor Meredith (G)
Steven Weinell (G)
Jie Wang (U)
Connor Meredith (G)
Aidan Bohenick (U)
Arpi Grigorian (U)
Medha Patel (U)
CLOSED
HAVE
A
NICE
WEEKEND
7pm
Levi S (U)
Cedric Kram(U)
Bradley Sain (U)
Medha Patel (U)
Aidan Bohenick (U)
Connor Meredith (G)
Zhenhuan Wang (G)
Jie Wang(U)
Aidan Bohenick (U)
Medha Patel (U)
Alexis Sotomayor (U)
Yu Wang (G)
Shen Lu (G)
Colton Grainger (G)
Levi S (2400)
Bradley Sain (U)
Cedric Kram (U)
Connor Meredith (G)
Sarah S (1300)
Bryan P (2510)
Jie Wang (U)
Connor Meredith (G)
Mat Foucher (U)
Michael Hasenkamp(U)
CLOSED
HAVE
A
NICE
WEEKEND
8pm
Levi S (U)
Cedric Kram (U)
Yu Wang (G)
Michael Hasenkamp(U)
Medha Patel (U)
Aidan Bohenick (U)
Levi S (U)
Bradley Sain (U)
Cedric Kram (U)
Jie Wang (U)
Mat Foucher (U)
Michael Hasenkamp(U)
CLOSED
HAVE
A
NICE
WEEKEND